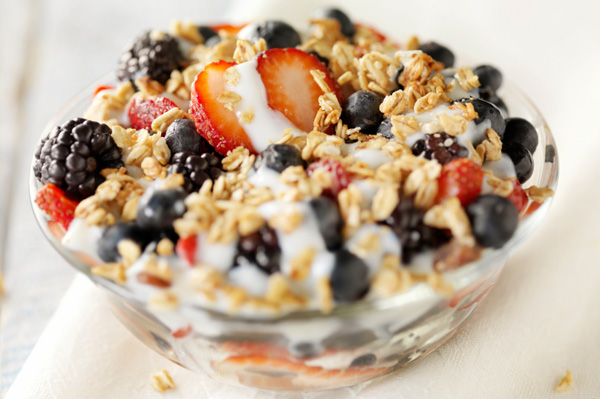 START THE DAY OFF RIGHT!
Bored with your breakfast? Switch things up in a deliciously healthy way with these options! We chatted up celeb nutritionist and Thomas' spokesperson Keri Gans to get some yummy and healthy ways to start your day off right.
Breakfast is the most important meal of the day! I look at breakfast as an opportunity for getting the fiber and calcium you need. If you skip breakfast, you've missed an opportunity to incorporate these nutrients, and so many others, in your daily nutrition," Gans says.
GREEK YOGURT, CEREAL AND BERRIES
Start your morning off right with some lowfat plain Greek yogurt, a 1/2 cup of high fiber cereal and a cup of berries! Gans says the fiber in the cereal helps keep you regular and the berries will give you an added boost of Vitamin C.
THOMAS'® WHOLE WHEAT BAGEL THIN™ AND PEANUT BUTTER
You need whole grains, so why not eat them in a delicious bagel thin? Spread on 2 tablespoons of natural peanut or almond butter, and you'll also get a boost of Vitamin E to help nourish your skin.
CEREAL, MILK AND FRUIT
Nosh on 1 cup of high fiber cereal (like Kashi Go Lean) with 1 cup low fat milk and sprinkle on some almonds and sliced banana. "Can you see a trend here? Breakfast is the perfect opportunity for fiber and your bones will love the calcium from the milk," Gans says.
OATMEAL WITH MILK AND COTTAGE CHEESE
Cook up some quick cooking oatmeal (made with ½ cup dry oats and 1 cup lowfat milk), and top your treat with a tablespoon of chia seeds, cinnamon and ¼ cup of lowfat cottage cheese. The omega-3s in chia seeds will aid heart health, and you'll get calcium from the milk and cottage cheese!
Read the full article here.