http://itseryne.com/category/books/ When the thermometer hits 90 degrees, the heat is on – literally! Honestly, I love the hot weather. Sometimes I think I should move to Costa Rica where I can wear little dresses and flip flops all year round, and never need to put a jacket on at night. Covering up my cute dress, because air conditioning makes me freeze, always bothers me! Anyway, not everyone I know agrees. And this past week has been a killer for most. What to do? As much as I would love if you could all make it to the beach or pool I know that isn't possible. Air conditioning surely helps as does staying hydrated. Or just remember this too shall pass! (Wise words from my grandmother Shirley!) Personally, I decided to experiment in the cocktail department and create a refreshing sangria. You can thank me later. Also, this week I share some important info on a trendy ice cream and give a little yoga love.
http://receptizavos.com/ferrero-rocher-torta/
go This week in The Keri Report:
Keri's Bar: Berry Good White Sangria
Yoga Pose of the Week: Extended Side Angle
Can Eating Charcoal Help You Detox?
---
Keri's Bar: Berry Good White Sangria
infant zantac price For me, the summer is a time of entertaining and, in my home, that goes hand–in-hand with cocktails. Personally, as my friends and family know, I am die-hard martini lover. But truth be told, not all my friends and family are. (And yes, I still love them!)
So, this summer, I decided to wow my company with a fun, refreshing cocktail. Hellooooo – white sangria!!!! I suppose I could have used any recipe off the Internet, but I wanted this to be my creation. Important to me was: 1. To take advantage of all the yummy fruit available this time of year; 2. Use less added sugar than in most sangria recipes and; 3. Hubby would actually like.
Here's what I came up with.
Ingredients:
1 bottle of dry white wine
½ cup triple sec
1 cup seltzer
1 cup raspberries
1 cup strawberries
2 peaches, sliced into small wedges
1 orange, sliced into circles
5 squeezes of SPLENDA ZERO™ Liquid Sweetener*
Put all ingredients into a large pitcher. Stir gently with wooden spoon (you don't want the berries to break). Cover and put in the refrigerator for at least one hour. To serve, spoon out some fruit into a wine glass filled with ice and pour in sangria. Garnish with a little fruit to impress your guests. Cheers!
*SPLENDA® Brand is a partner of mine, and I was lucky enough that they sent me samples of SPLENDA ZERO™ Liquid Sweetener to try. Since my goal was to use less added sugar, it was the perfect addition to sweeten my recipe.
---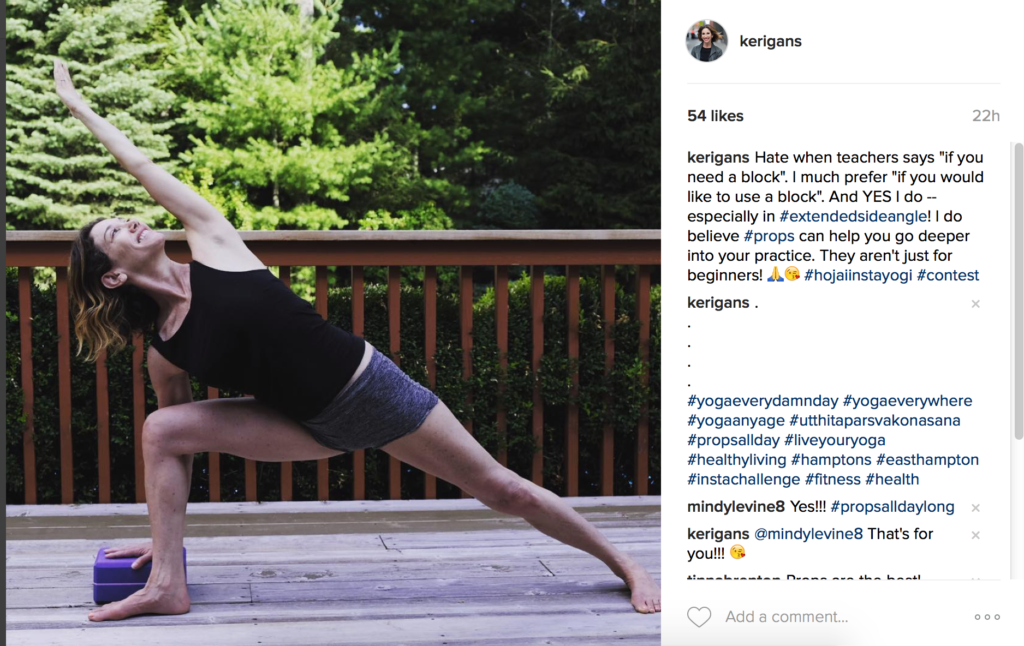 Yoga Pose of the Week: Extended Side Angle
I shared this photo on Instagram this week, but I know many of you are not on Instagram; hence, I am sharing it here. I know I have written about this in the past, because I think props, in this instance a block, in general get a bad wrap. Too many people think that props are only to be used if you are a beginner or inflexible; that my friends, is so far from the truth. I feel I get my best alignment in this posture with a block and to me alignment is everything. Letting go of ego is part of the yoga practice!
---
What do you think? Do good to be true? As always the answer is – YES. As much as many people would like to think that eating ice cream with charcoal can do miraculous things for the body; it just isn't so. Thank you US News for allowing me to help set the record straight (once again!). But of course – if you want to try some of the black stuff who am I to stop you! Personally though, I'm sticking with vanilla!
Save
Save
Save
Save
Save
Save
Save
Save
Save
Save
Save
Save